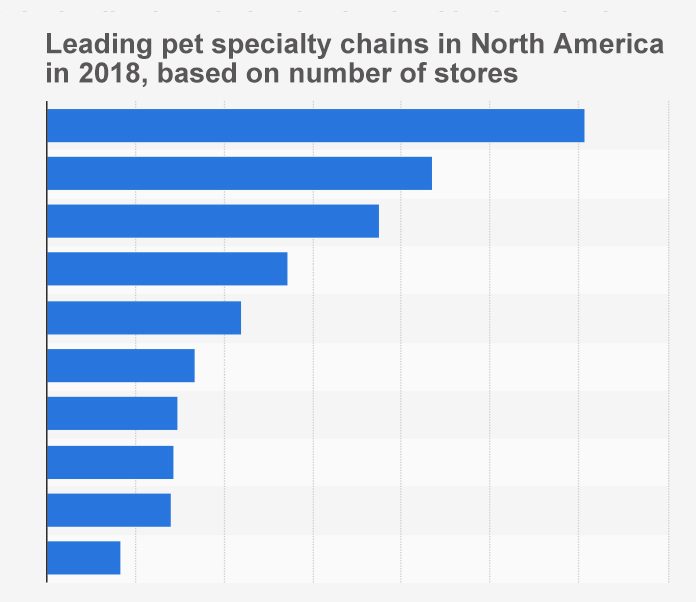 The statistic displays the leading pet specialty chains in North America in 2017, based on the number of stores. In that year, San Diego-based PETCO operated 1,433 stores in North America. The total number of pet specialty stores amounted to 5,553.
Pet specialty chains
The pet store industry continues to grow in spite of increased competition from supermarkets, mass merchandisers and online retailers which offer consumers more convenience at lower prices. In 2018, the U.S. pet store industry generated roughly 18.53 billion U.S. dollars in revenue.
PetSmart was the largest pet store chain for specialty pet supplies in 2018, with a total of 1,500 stores in North America. The company also provides a variety of animals for sale and adoption, such as birds, fish and reptiles. Pet grooming services, dog training, and pet hotel and day care facilities are part of the company's growing portfolio. Moreover, PetSmart employs approximately 53,000 associates and has store operations in the United States, Canada and Puerto Rico.
PetSmart and PETCO were the largest pet store chains in the United States, controlling almost two-thirds of the market in 2018. U.S. branches of PetSmart and PETCO experienced a constant increase in annual revenue over a six-year period.
Fourth-place Pet Supplies Plus had about 375 store operations in the North American region in 2018. This franchise business sets itself apart by offering all-natural food products.