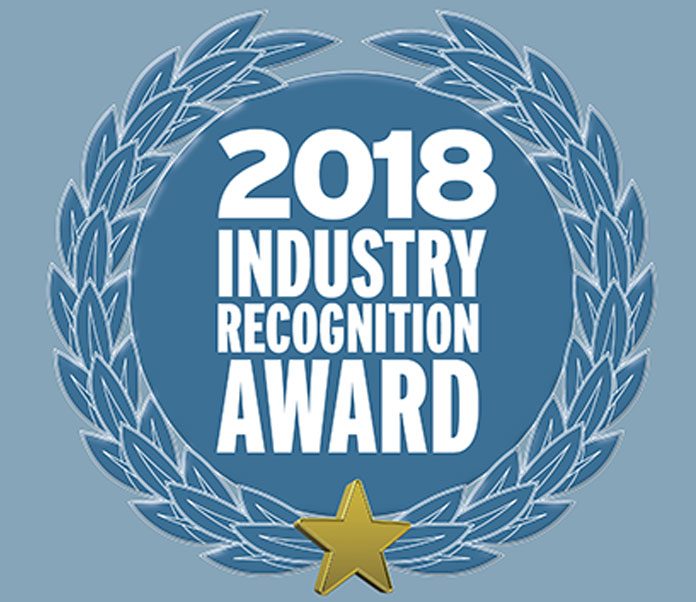 The 17th-annual Pet Business Industry Recognition Award celebrates the best that the pet care category has to offer.
The ability to offer a unique and innovative mix of products has always been a key competitive strength of pet stores. But as increased competition from online outlets and other retail channels have raised the stakes for these often relatively small retail operations, it has become more important than ever for pet store owners and operators to identify the latest and greatest merchandise to hit the market.
With this in mind, Pet Business uses its annual Industry Recognition Awards as a platform to honor standout products across a variety of pet care categories. To find our award winners, the editors of Pet Business search through the hundreds of vendor press releases we receive each year, as well as the aisles of the industry's major trade shows and even local pet store shelves to find the most exciting and functional products that the industry has to offer. Of course, with so much innovation coming out of the industry every year, this is never a simple task. However, the field has been narrowed, and without further ado, the winners of the 2018 Pet Business Industry Recognition Awards are…
DOG APPAREL
PetRageous Designs
Eddie Bauer Collection
Eddie Bauer PET dog apparel from PetRageous Designs includes the Snowfield Performance Vest. This medium-weight, water repellent vest has a chevron-quilted pattern and includes a useful zippered pocket and reflective safety stitching on its black binding. This garment is just one of several styles that entirely captures innovation, function and fashion.
Saltsox
Lavasox
Lavasox Heatproof Urban Booties from Saltsox features a radiant heat barrier in the sole to protect paws from high surface temperatures while maintaining the thin-sole design that Saltsox pioneered. A highly ventilated upper allows air to circulate, and a high-tech rubber sole provides abrasion resistance and secure footing.
DOG BEDS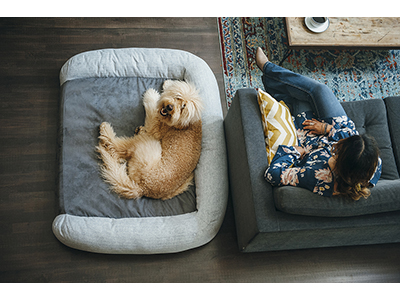 Pet Lifestyle and You (P.L.A.Y.)
California Dreaming Memory Foam Bed Collection
The California Dreaming Memory Foam Bed Collection from P.L.A.Y. is ideal for large or senior dogs that need extra support for their joints. Each bed has a high-density memory foam center cushion covered with a soft, yet durable microfiber fabric. All are filled with the company's eco-friendly PlanetFill stuffing.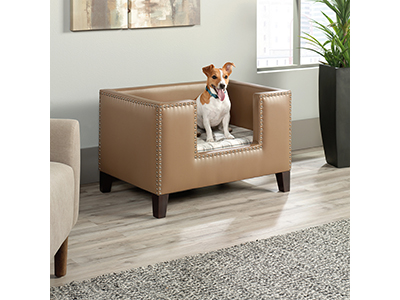 Sauder
Club Lux Pet Bed
Sauder's Club Lux Pet Bed is designed with the same materials and features used in the company's seating products. This comfortable and ultra-chic bed is made with DuraPlush vinyl and a thick, 4-in. cushion, and features decorative upholstery tacks and a high-side design.
DOG BOWLS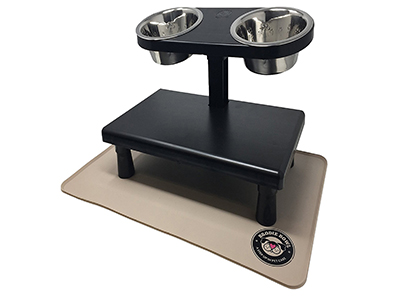 Brodie Bowl
Brodie Bowl
The Brodie Bowl places a pet in an upright, ergonomic feeding position using a unique step-up design. Featuring a tilted bowl platform and adjustable height and size options,
this raised pet bowl helps promote pet digestive health.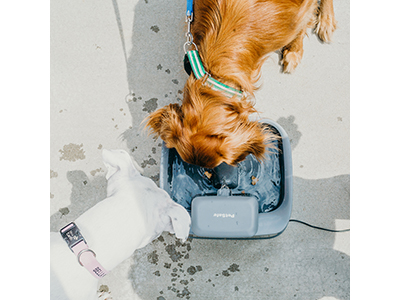 Petsafe
Drinkwell 2 Gallon Pet Fountain
PetSafe's Drinkwell 2 Gallon Pet Fountain is an automatic, quiet water fountain. The easy-to-clean product has a large capacity and encourages pets to drink more. It features dual filtration to remove bad tastes and odors, constant circulation and an adjustable water flow.
DOG CALMING AIDS
King Kanine
King Kalm CBD Line
King Kalm CBD from King Kanine is made with high-quality phytocannabinoid-rich (PCR) broad-spectrum oil suspended in the highly beneficial omega-3 rich krill oil. Available in 75-, 150- and 300-mg formulas, it is great not only for reducing anxiety and stress, but also promoting overall wellness in dogs.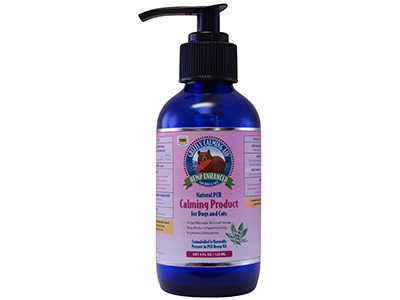 Grizzly Pet Products
Grizzly Calming Aid
Grizzly Calming Aid from Grizzly Pet Products contains PCR Hemp Oil combined with krill oil for superior absorption. It does not contain THC. Grizzly Calming Aid has veterinarian-established dosages for efficiency and safety, is long-lasting for any dog or cat, and is NASC compliant.
DOG CARRIERS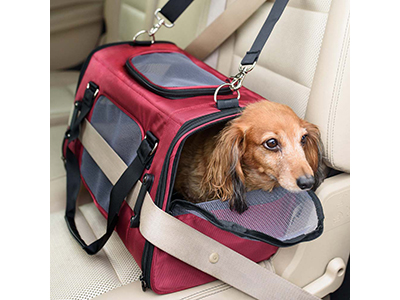 Gen7
Commuter Pet Carrier + Car Seat
The Gen7 Commuter Pet Carrier + Car Seat is easy to transfer in and out of the vehicle and uses the seat belt latch and shoulder strap to be safely secured in place. Suitable for pets up to 20 lbs., it features an easy-to-clean, machine-washable comfort pad.
DOG CHEWS

Tasman's Natural Pet
Chicken On-Hide Bison Rawhide
Tasman's Natural Pet Chicken On-Hide Bison Rawhide Rolls & Twisters Premium Dog Chews are based off of the brand's Bison Rawhides and flavored with natural U.S.-sourced chicken. Three rolls and two twister sizes are available in stand-up pouches.

TDBBS
Barkworthies Variety Packs
The Barkworthies Variety Packs contain products that vary in chew durations and textures to ensure every dog is satisfied while supporting positive dental health with active chewing. Available in Large Dog, Medium Dog, Small Dog and Puppy sizes, each pack contains a variety of appropriately sized, premium, all-natural chews.

Wholesome Hide
Bacon in a Blanket
The Bacon in a Blanket retriever roll from Wholesome Hide is a safe and satisfying chew for dogs. It's made from a roll of USA-sourced smoked pork hide and wrapped with fresh beef hide. This treat comes in a 9-10-in. variety and a 4-5-in. version for smaller dogs.
DOG COLLARS & LEASHES

Groomer's Helper
No-Choke Lead
The "NO-CHOKE" Control/Slip Lead from Groomers Helper prevents the "choking" of pets by using the same proven principals of the company's patented Grooming Loop. It features an emergency quick-release buckle as an added safety feature and even has different use options for both brachycephalic and older "trach" dogs.

Up Country
Up Country Ribbon Collars
Up Country offers more than 100 collar designs, including seasonal and holiday patterns in a variety of sizes. The ribbon collars are made from high-tensile strength nylon webbing with sewn-on stain and fray resistant polyester/nylon ribbons. All hardware is cast, not welded brass, for extra strength and it is made in the USA.

Petface
Signature Padded Collar, Harness & Leash Collection
The Petface Signature Padded Collar, Harness & Leash Collection features padded neoprene inner layers for added comfort for both the dog and handler, as well as unique, easy-to-use metal Petface clips that are designed with a solid satin premium finish and are fully adjustable to ensure the perfect fit.
DOG CONTAINMENT

Diggs' Revol crate
diggs.pet
The Revol Dog Crate from Diggs is a patent-pending, collapsible crate that is designed more ergonomic, simple to use, stylish and safer than other wire crates. It's easy to set up and easy to collapse, and has two doors, three access points and wheels for easy transport.

Primetime Petz
Safety Mate Gates
The Safety Mate gate from Primetime Petz is a tension-mounted gate that expands to fit openings from 24.5 to 41 in. Made from solid wood with a quick-release, one-handed latch, it features a two-way swing with double-locking system. It comes in a knockdown package that takes up very little shelf space.
DOG DENTAL CARE

Emerald Pet
Fresh Smileezz All Natural Grain-Free Dental Chews
Emerald Pet's Fresh Smileezz All Natural Grain Free Dog Dental Chews freshen breath with parsley, dill and mint. The firm, chewy texture, deep ridges and wide shape surround the entire tooth for deep cleaning while coconut oil and kelp reduce bacteria. They are available in mini, small, medium and large.

NPIC
Get Naked Dental Health Bones
All-natural, grain-free Get Naked Dental Health Bones from NPIC help remove plaque and tartar buildup during chewing. The vanilla flavored bones use five natural breath fresheners, including parsley, fennel, dill, green tea extract and peppermint. They are available in small, medium and large sizes in 6.6- and 15-oz. packages.

Tropiclean
FreshBreath Dental Chews
TropiClean Pet Products relaunched its Fresh Breath by TropiClean Dental Chews with three new flavors: Peanut Butter, Banana and Blueberry. The revamped formula includes natural ingredients like coconut, green tea and the natural mineral SHMP (Sodium Hexametaphosphate), which is clinically proven to safely remove plaque and tartar buildup.
DOG FLEA & TICK PRODUCTS

Pura Naturals Pet
Natural Flea & Tick Shampoo
Pura Naturals Pet's Natural Flea & Tick Shampoo kills and repels fleas or ticks with a fresh scent. The soothing formula is made with organic rosemary oil, which has natural antiseptic properties. It includes aromatic cedar and peppermint oil, which are natural repellents, and cinnamon oil to help inflammation.

Nutri-Vet
Defense+ for Dogs
Defense+ for Dogs from Nutri-Vet is formulated to kill, repel and prevent re-infestation of fleas, ticks, mites and mosquitos. It does not contain any neonicotinoids, which are insecticides harmful to the bee population. It is available in four sizes to treat any size or breed of dog.
DOG FOOD – DRY

Fromm Family Foods
Four Star Nutritionals Rancherosa​
Fromm Family Foods' Four Star Nutritionals Rancherosa is a western-influenced diet that is a hearty blend of beef, pork, pinto beans, trout and lamb together with butternut squash and pumpkin, inspired by life on the range. This grain-free kibble option is available in 4, 12 and 26 lb. sizes.

Champion Petfoods
ACANA Singles
Champion Petfoods' unveiled a formulation makeover and flavor additions for its ACANA Singles line. The formulation improvement adds more high-quality, fresh meat protein, while reducing the number of carbohydrates and shortening the ingredient panel. The two new single animal-source protein flavors are Beef & Pumpkin and Turkey & Greens.
DOG FOOD – RAW

Bixbi Pet
Rawbble Freeze-Dried Diets
With 95-98 percent meat, organs and bone, BIXBI's RAWBBLE Freeze Dried complete and balanced recipes are packed with nutrients and flavor. The small pieces are easily rehydrated and make feeding, topping or treating simple and convenient. It is one of the most affordable freeze-dried options on the market.

Longevity Raw Pet Food
Just Green Tripe Patties
Longevity Raw Pet Food's frozen raw Just Green Tripe patties are individually wrapped to make feeding raw simple and convenient. Grassfed beef green tripe is a superfood for pets. It is a highly digestible protein that is nutrient dense and rich in probiotics, and provides digestive enzymes.
DOG FOOD TOPPERS

The Honest Kitchen
Pour Overs
The Honest Kitchen's Pour Overs are 100 percent human-grade, wet toppers that are slow cooked and designed to add a nutritional boost to a dog's diet. These limited-ingredient toppers are available in three varieties—Bone Broth Stew, Pumpkin Stew and Superfood Stew—with three flavors in each variety.

Primalvore
Mobility Formula Bone Broth
Primalvore Holistic Canine Nutrition's Mobility Formula Bone Broth is organic, shelf-stable and comes in a convenient standup pouch with a reclosable cap. The broth is made in small batches that are slow-simmered to extract important nutrients. Collagen peptides are added to improve joint health in dogs, while organic turmeric helps fight inflammation.
DOG FOOD – WET

Ziwi    
Ziwi Peak New Zealand Free-Range Chicken
Ziwi's first poultry product—Ziwi Peak New Zealand Free-Range Chicken—is made from 100 percent New Zealand free-range chicken, organs and green-lipped mussel. The chickens are ethically raised without added hormones or growth promotants on farms that are independently audited and certified as humane and free range.

Health Extension Pet Care
Health Extension Grain-Free Canned Diets
Health Extension Pet Care's super premium collection of grain-free canned diets for dogs features "meat first" recipes that are created with whole foods like real salmon, venison, quail and beef, plus other health-boosting ingredients, like turmeric and apple cider vinegar. A variety of recipes are available in 12.5-oz. cans.
DOG GROOMING – ACCESSORIES

Davis Manufacturing
Studio Color Crème Chalk
Davis Studio Color Creme Chalk Pens are easy-to-use twist-up pens that are self-sealing, dry fast and wash out easily when you are ready for a change. Made for you and your pets, apply on long strands, mohawks, top-knots, tails and more. Blend them together or use with stencils.
DOG GROOMING – BRUSHES

Dexas
BrushBuster​
The BrushBuster from Dexas is a silicone palm brush that is ideal for use between baths, as it keeps a dog's coat shiny and free of tangles. Each silicone bristle has extra massaging nibs that aid in both de-shedding and in distributing essentials oils throughout a dog's coat.

Swees America
Eazee by Foolee Intense Massage Brush PRO
The Eazee by Foolee grooming tool line now has the Intense Massage Brush PRO. This accessory features flexible fingers that are great for deep massages, stimulating blood circulation and toning up skin.
DOG GROOMING – HOME BATHING TOOLS

Bissell
BarkbathQT​
BISSELL's BARKBATHQT is a quiet, all-in-one dog bathing system that deep cleans any length of fur or hair with a unique, no-rinse shampoo. Specially designed nozzles get beneath the fur and cleanse the skin, and a soft suction hose gently pulls dirty water away into a separate tank.

HandsOn
Soft Gloves
The HandsOn Soft Gloves line are constructed out of the same tough nitrile, durable PVC and nylon fabric as their predecessors, but they are lighter in weight and feature super soft nodules on the fingers and palms to create a calmer, more enjoyable grooming experience.
DOG GROOMING – PROFESSIONAL

Andis Company
Pulse ZR II Detachable Blade Clipper
Andis Company's Pulse ZR II Detachable Blade Clipper pairs lithium-ion power and variable speed versatility for professional groomers on the go. This heavy-duty, detachable blade clipper conveniently delivers up to a 2.5-hour run time on a single 2-hour charge. The 5-speed Pulse ZR II adjusts from 2,500 strokes per minute up to a high speed of 4,500 spm.

Cleantools
Absorber Pro Dry Towels
Absorber Pro Dry Towels are designed to save groomers time, money and resources while giving dogs a more enjoyable experience. The absorbent and flexible material wrings out easily and continues to dry effortlessly, eliminating the need for multiple towels per client. They are sold in packs of four in two colors—Blue and Biscuit.
DOG GROOMING SHAMPOOS/CONDITIONERS

PROCÃO Amazonia
Procão Amazonia Grooming Line
PROCÃO Amazonia's new grooming product line uses natural bio-actives from fruits, nuts, herbs and leaves found in the Amazon and sourced in a conservational manner. The line includes a variety of shampoos and conditioners for dogs and cats formulated with ingredients such as acai, passion fruit, coconut and Brazilian cherries.

Cardinal Pet Care
EcoBath Manuka Honey Line
Cardinal Pet Care's EcoBath Manuka Honey line uses Manuka Honey—derived from New Zealand and known for its healing benefits—blended with other botanical ingredients such as organic hempseed oil for moisture and organic chamomile extract for conditioning. The line does not contain harsh chemicals, or artificial colors or fragrances.
DOG HEALTHCARE PRODUCTS

CBD Dog Health
CBD Dog Hemp Salves
CBD Dog Hemp Salves from CBD Dog Health are formulated to help alleviate dry skin, treat skin cancers, aid hot spots, treat dermatitis and provide a range of other benefits. The REMEDY, NOURISH and SOOTHE formulas are made in the USA with the highest quality ingredients.

Pet Parents
Washable Dog Diapers & Belly Bands
Pet Parents offers washable dog diapers and belly bands to help with common health issues or post surgery healing. Great for dogs that have urinary/fecal incontinence, gastrointestinal upset or urinary tract infections, they feature Fur-Safe adjustable velcro systems; sewn-in, multi-layer, super-absorbent pads; leak-proof/waterproof exterior shells; and leak-proof elastic edges.
DOG SKIN & COAT CARE

Nature's Pet Herbals
Hempful Soap Bar for Pets
The Hempful Soap Bar from Nature's Pet Herbals combines full spectrum CBD with organic coconut oil, therapeutic essential oils and neem. Rich in vitamin E and fatty acids, neem's anti-inflammatory and analgesic agents can help to reduce inflammation, as well as repel and kill common biting insects.

Skout's Honor
Priobiotic Skin Care Line
The Probiotic Skin Care line Skout's Honor is designed to boost pets' natural defenses against shedding, itching, dryness, hot spots and odor. It supports a naturally balanced and healthier-looking skin and coat. Available in three fragrances—Honeysuckle, Lavender and Unscented—the line includes shampoo, conditioner, shampoo/conditioner, detangler and deodorizer.
DOG SUPPLEMENTS

NaturVet
NaturVet Hemp Line
NaturVet now offers hemp-based alternative solutions with four top products: Allergy, Calming, Immune and Joint. The new hemp line combines hemp seed oil and hemp seed powder for pet parents looking for health benefits from hemp-based products.

Lintbells
YuMOVE Soft Chews
YuMOVE Dog from Lintbells is a premium, natural joint supplement that eases stiffness from normal exercise and daily activity, promotes cartilage development and joint health, and maintains joint mobility. Pet owners will see a difference in just 60 days, thanks to ingredients like high-strength, cold-extracted ActivEase Green-Lipped Mussels (a concentrated source of omega-3) and glucosamine.

Under the Weather
Ready Balance
Ready Balance from Under the Weather is a fast-acting probiotic gel containing beneficial bacteria, vitamins and the prebiotic inulin to help maintain normal appetite, digestion and gut health during times of stress and digestive upset. The 30 cc dial-a-dose tube ensures accurate feeding levels. It is available in a 12-pack display unit.
DOG TOYS – CHEW

Starmark Pet Products
Bend-E Branch
Starmark expanded its Interactive Play line with new Bend-E Branches. Made of tough rubber, they grunt and croak when flexed to entice tug and fetch play. The material is soft and safe for teeth and gums. It is available in two sizes: large (7.75 in.) and small (6 in.).

Editor's Note: the photo of ZippyPaws' award-winning TPR toys that appears in the print edition of Pet Business was inaccurate.
ZippyPaws
ZippyTuff TPR Toy Line
The ZippyTuff TPR toy line from ZippyPaws is a collection of thermoplastic rubber (TPR) products designed to last even in the paws of the toughest chewers. The line features a range of fun shapes in bright colors, including a Dumbbell, Cactus, andsmall and large Squeaker Balls.
DOG TOYS – FETCH

Spunky Pup
Ball Blaster
Spunky Pup's Ball Blaster is an ultra-light, air-powered ball launcher. It can launch the ball up to 60 ft. It does not contain dangerous springs or elastic brands that will wear and break over time. The ergonomic and contoured design is sleek and easy to hold.

West Paw Design
Zwig​
West Paw's Zwig combines shapes and textures to create an irresistible chew-feel with a bouncy action that keeps going even when dogs are just carrying it around. Part of the company's Zogoflex Echo collection, it has a hollow core, making it lightweight, squishy and durable for moderate and persistent chewers.
DOG TOYS – INTERACTIVE

iFetch
iDig​
The iDig from iFetch is a positive way to encourage dogs' innate desire to dig. It can be loaded with toys or treats and different flap designs provide varying levels of digging challenges. iDig is available in two models—the compact, hard-shelled iDig Stay and the flexible, pop-up iDig Go.

Multipet International
Archie Ball
The Archie Ball from Multipet International is designed to curtail boredom and keep dogs entertained for hours. When rolled, the hard plastic Archie Ball's face lights up, activating one of 20 sound effects and catchy phrases. Available in green, red and blue for small, medium and large breeds.
DOG TOYS – PLUSH

Pet Lifestyle and You (P.L.A.Y.)
Mutt Hatter Collection
The whimsical hat toys in the Mutt Hatter Collection from P.L.A.Y. feature amusing crinkles and squeaks, plus two built-in loops, so they can be quickly turned into a costume hat for a fun photo-op. Products in the collection are available individually or as a set with free hat box counter display.

OurPet's Company
Tootsie Candy Brands Toys
Tootsie Candy Brands Toys from OurPet's Company feature a thick outer polyester material, rope and hidden squeaker for fun and rugged play. The eight toys in this nostalgic collection depict childhood favorite candies, including Tootsie Roll, Tootsie Pops, Blow Pop, Dubble Bubble, Sugar Daddy, Dots, Junior Mints and Razzles.
DOG TOYS – TREAT

Ethical Products
Groovy Play Dog Toys
Ethical Products' Groovy Play dog toys are thick-walled rubber toys that stay strong with Dura-last technology. Grooves and holes can be filled with treats or peanut butter for rewarding playtime. Flappy tug straps are perfect for swinging, shaking and tug-o-war. The toys are available in five styles and three colors.
DOG TOYS – TUG

Mammoth Pet Products
Flossy Chews EXTRA Fresh Toys
Flossy Chews EXTRA Fresh toys from Mammoth Pet Products are made with real dental floss, natural beeswax and mint. They floss teeth and freshen breath. The tightly woven, poly-cotton rope fibers are perfect for maintaining good dental hygiene while playing, tossing and tugging.

Worldwise
goDog RopeTek Toys
goDog RopeTek toys from Worldwise, Inc. offer a new twist on durable rope toys by combining the strength and durability of nylon climbing rope with new patent-pending manufacturing process that fuses the rope to a TPR surround. They are available in four shapes—Figure 8, Tug, Bone and Ring—in small and large sizes.
DOG TRAINING

PetSafe
Remote Trainer Line
PetSafe's newly designed Remote Trainer line is waterproof, rechargeable and easy to use, quickly improving communication between pet and pet owner. Available in 100-, 300-, 600- or 900-yard ranges, Remote Trainers include tone, vibration and 15 levels of static stimulation.

EzyDog
Command Clicker
The EzyDog Command Clicker is a unique positive reinforcement training tool that's worn like a ring, freeing up the trainer's hands for other tasks like treat and leash management. A drawstring with adjustable barrel lock ensures that this handy training tool always remains attached to the user.
DOG TREATS – BAKED

Redbarn
Protein Puffs
Redbarn's new Protein Puffs are a natural, clean-label treat for dogs, packed with 75 percent protein at less than one calorie per treat. Light and crispy, these healthy treats can also be used as a food topper or training aid. They are made in the USA.

Grandma Lucy's
Lemon Honey Organic Oven Baked Dog Treats
Grandma Lucy's added a new Lemon Honey recipe to its Organic Oven Baked Dog Treats lineup. The teddy bear-shaped treats are 100 percent USDA-certified organic and are made from human-grade ingredients. They are GMO-free and contain no added preservatives. They are available in 14-oz. peggable bags.

Stella & Chewy's
Raw Covered Biscuits
Stella & Chewy's introduced Raw Coated Biscuits. Each recipe is inspired by a raw diet of meat, organs and bone. The treats are gently baked and coated with freeze-dried raw goodness. Raw Coated Biscuits are available in four recipes–Grass-Fed Beef, Cage-Free Chicken, Grass-Fed Lamb and Cage-Free Duck.
DOG TREATS – FUNCTIONAL

Medipets
Medipets CBD Dog Treats
MediPets Dog Treats contain anywhere from 1.5 mg to more than 16 mg of CBD (cannabidiol) per treat, for a total of 100 mg of CBD per container. Sourced from industrial hemp, Medipets Dog Treats are proudly made in the USA in a variety of irresistible flavors.

Holistic Hound
Hemp & Mushroom Bites
Hemp & Mushroom Bites from Holistic Hound are made with PCR hemp derived from full-spectrum hemp organically grown and produced in Colorado using a solvent-free, super critical CO2 extraction method. Available in Chicken or Lamb varieties, they include certified organic blend of five mushrooms—Reishi, Shiitake, Mesima, Poria and Turkey Tail.

Treatibles
Turkey Grain-Free Hard Chews
The first meat-based chew from Treatibles, Turkey Grain-Free Hard Chews are phytocannabinoid-rich treats that contain chickpea flour, sweet potato, turkey, coconut oil, hemp seed oil, tapioca, molasses, cinnamon, turmeric and sunflower lecithin. Two sizes are available. The small bag contains 45 chews while the large size has 75.
DOG TREATS – MEAT

Jones Naturals
Jones Select Line
The Jones Select line from Jones Naturals is a collection of limited-ingredient natural treats made with 100 percent USA-raised and -sourced meat and natural ingredients. The line includes both traditional proteins such as beef, chicken and turkey, as well as exotic proteins such as alligator, pheasant and wild boar.

Whitebridge Pet Brands
Cloud Star Wag More Bark Less Jerky
Wag More Bark Less Jerky offers 100 percent real meat and nutritious inclusions such as apples, cranberries and sweet potato to keep dogs' tails wagging. It is available in delicious flavors like Chicken & Sweet Potato, Duck & Apple, and Turkey & Cranberry.

Loving Pets
True Venison Treat Line
True Venison All-Natural Dog Treats from Loving Pets feature 100 percent free-range venison in a variety of options, including Jerky Bars, Jerky Rounds, Femurs and Shin Bones. A great alternative to chicken or beef, these all-natural treats are grain-, gluten- and antibiotic-free, contain no added hormones, and are made in the USA.
CAT BEHAVIORAL PRODUCTS

H&C Animal Health
Feliscratch by FELIWAY
FELISCRATCH by FELIWAY, available from H&C Animal Health, is a simple answer to a cat's inappropriate scratching in the home. It helps redirect scratching onto the scratching post and is clinically proven to help reduce or stop unwanted scratching in the home.
CAT BOWLS/FEEDERS

Sure Petcare
SureFeed Sealed Pet Bowl
Sure Petcare's SureFeed Sealed Pet Bowl has a motion sensor that automatically opens the bowl when a pet is near. Once the pet has finished eating, the bowl closes and creates an airtight seal that keeps food fresh. The seal helps prevent odors, keeps bugs out and keeps food moist longer.
CAT CALMING AIDS

Vet Worthy
Calming Paw Gel Aid
Vet Worthy Calming Paw Gel Aid contains chamomile and passionflower to help soothe and calm cats with stress and anxiety. Available in a 3-oz. convenient squeeze tube, the enticing salmon flavored gel is applied to a cat's paw for the cat to lick.
CAT CARRIER

Petmate
Jackson Galaxy Double Extend Carrier
The Jackson Galaxy Double Extendable Cat Carrier from Petmate features multiple points of entry and easily expandable sides that fold down, giving cats more room to lounge. To get up and go, simply zip the expandable sides up and use the two handles or the padded shoulder strap.
CAT FLEA & TICK

Earth Animal
Herbal Flea & Tick Defense Collar
Earth Animal's Herbal Flea & Tick Defense Collar is infused with a natural blend of aromatic herbs and essential oils that give a fresh, minty fragrance. The preventative power of these gentle oils does not irritate pets and provides protection from fleas and ticks.
CAT FOOD – DRY

Annamaet Petfoods
Feline Sustain No. 29
Annamaet Petfoods' Feline Sustain No. 29 is formulated with two sustainable sources of fish and certified as a sustainable product. This grain-free, fresh meat recipe contains added prebiotics and natural antioxidants from turmeric, blueberry and cranberries. A portion of the profits from each bag sold goes toward ocean conservation.

PureLUXE Pet Foods
PureLUXE Elite Nutrition
PureLUXE Pet Food's Elite Nutrition offers unsurpassed transparency. Built on a foundation of limited-ingredient nutrition with specialized holistic ingredients, PureLUXE provides every customer with complete nutritional information with every batch of pet food. All of the formulas contain fresh meats first and never use Chinese ingredients, corn, wheat, soy, by-products, fillers or sugars.
CAT FOOD – WET

Caru Pet Food
Caru Classics Stews
Caru Pet Food's cat stews are limited-ingredient, natural diets that look, smell and taste like a home-cooked meal and can be served to cats in every life stage. American-made in a human-grade facility using human-grade ingredients sourced in the USA, they're packed with added vitamins, minerals and taurine, with no GMOs, grains or gluten.

Wellpet
Wellness Complete Health Gravies
Wellness Complete Health Gravies do not contain grains, fillers, artificial colors or preservatives, or carrageenan. They are available in Tuna, Chicken, Turkey and Salmon recipes, and come in 3- and 5-oz. cans.
CAT LITTER – CLAY

Dr. Elsey's
Clean Tracks Litter
Dr. Elsey's Clean Tracks is a low-tracking, hard-clumping and odor-eliminating litter. It has a unique formulation of medium-grain clay that helps keep litter in the box while controlling odor without added perfume, deodorants or chemicals. The litter is available in a 20-lb. box and 40-lb. bag.

Boxiecat
BoxiPro Deep Clean
Boxiecat's BoxiePro Deep Clean cat litter line transforms the litter box by using a special blend of natural probiotics to wipe out all bacteria, keeping cats and homes healthier. It features the company's trademark Flat Top clumping innovation, which keeps the litter box cleaner longer.
CAT LITTER – NATURAL

American Wood Fibers
Premier Pet Nature Scents
Developed with natural scents that cats will love, Nature Scents from American Wood Fibers is the new wood crumbles, clay-free and chemical-free alternative to the dusty perfumed litters. While cat owners will appreciate the odor control and easy cleanup, their cats will be attracted to the mild aroma of botanicals.

Catfidence
Catfidence Bamboo Litter
Catfidence is the only cat litter made from sustainable bamboo—certified 98 percent USDA Biopreferred. There are no chemicals or additives. It is flushable and compostable. One 7 lb. bag is equivalent to 40 lbs. of clay litter and lasts an entire month. It has natural odor control and absorbency.
CAT TOYS

Outward Hound
Petstages Dental Toys
Outward Hound's Petstages feline dental toys naturally freshen a cat's breath and help clean its teeth. Featuring flossy textures, catnip infusions and irresistible crinkle, they inspire playing with purpose.
CAT TREATS

Green Coast Pet
Full-Spectrum Hemp Chews
Green Coast Pet's Full-Spectrum Hemp Chews for cats are soft for easy chewing and packed with benefits. Because they are cold-extruded, the active ingredients are not degraded by heat. The chews contain 100 mg of the company's proprietary hemp blend, including 1.5 mg of full-spectrum hemp extract per chew.

Pure Treats Inc.
Purebites Pure Wild Tuna, Minnow & Ocean Medley Treats
Pure Treats Inc.'s new Purebites Wild Tuna and Purebites Wild Minnow are grain-free treats made with only one or two natural ingredients. Preservative-free and easy to digest, the treats are good for cats with health issues like obesity, allergies, diabetes or gastrointestinal orders.
DOG/CAT FOOD LINES

Nulo
Nulo FreeStyle Pouches
Nulo FreeStyle's Pouch recipes are crafted with fresh shreds of meat and flakes of fish in broth to deliver a protein-rich complement to a pet's meal. With simply six ingredients or less, Nulo Freestyle Pouches are 100 percent natural and do not include gums, tapioca or potato starch, grains or other additives.

Tuffy's Pet Foods
Nutri Source Pure Vita Grain-Free Canned Entrees
Tuffy's Pet Foods' Pure Vita Super Premium line of canned products includes 10 new grain-free varieties—five each for dogs and cats. True single-source meat or fish products, they are 96 percent meat inclusion and 90 percent fish inclusion formulas that contain the company's Good4Life system. They are available in beef, chicken, pork, salmon and turkey.
DOG/CAT STAIN & ODOR PRODUCTS

Earth Friendly Products
Disney ECOS for Pets! Stain & Odor Remover
The Disney ECOS for Pets! Stain & Odor Remover neutralizes pet odors and lifts tough stains on clothes, carpets, rugs or other water-safe surfaces. The plant-powered formula with enzymes is safe for people, pets and the planet. It is available in three sizes: a 22-oz. sprayer, 32-oz. bottle and 128-oz. refill.
DOG/CAT SUPPLEMENTS

Pet Releaf
Pet Releaf Liposome Hemp Oils
Pet Releaf's Liposome Hemp Oils are a new technology that allows the company's USDA organic CBD hemp oil to be administered directly on food. They are mixed with a sustainably-sourced wild Alaskan salmon oil and are available in two potencies to meet the needs of dogs and cats.

PetAlive​
Brain Health Supplements
Brain Health by PetAlive supports each stage of a dog's life. Brain Health for Puppies and Brain Health for Adult Dogs are all-natural herbal remedies that encourage much-needed blood flow, oxygen and nutrition to the dog's brain. Brain Health for Senior Dogs supports the nervous system and overall health.
DOG/CAT TECH

Wagz, Inc.
Wagz Smart Pet Products Collection
Wagz used cutting-edge technologies to build a unique system that delivers a completely connected pet lifestyle. The company's smart feeders, doors, collars and more deliver a system that allows pet owners to give their four-legged friends newfound freedom, better nutrition, long-lasting health and more attention.

Petrics
Petrics Health & Nutrition Application
The Petrics Health & Nutrition App from Petrics Inc. factors in characteristics like breed, weight, allergies, pre-existing medical conditions and age to help dog and cat owners provide healthier food options for their dogs and cats. It offers a breakdown of over 15,000 foods and 17,000 ingredients.
DOG/CAT TRAVEL

Sleepypod
Sleepypod Go Bag
The Sleepypod Go Bag features a tapered profile and streamlined grab handle, two mini packing cubes, an insulated food pouch, gusseted side pockets, an exterior utility ring and zippered pocket for easy access items, a padded main compartment and interior pocket, and an interior lanyard for attaching keys.
BIRD CAGES

A&E Cage Company
House Top Bird Cage with Stand
A&E Cage Company's beautiful House Top Bird Cage with detachable stand features a slide out plastic tray for easy cleaning, as well as two feeder cups and one wood perch. Ideal for canaries, finches, cockatiels, parakeets, conures and quakers, it is finished with a non-toxic, durable and safe powder coating.
BIRD FOOD/TREATS

TOP's Parrot Food
Birdie Bread Mixes
TOP's Parrot Food Birdie Bread Mixes are made from the same ingredients as the company's proprietary, cold-pressed pellets. Each comes in a four-cup, re-sealable package that contains two full servings. The new flavor lineup includes Cajun Spice, Blueberry Burst, Mediterranean, and Peas & Carrots.
BIRD TOYS

Caitec
Featherland Paradise Tug 'N Slide Tower
The Featherland Paradise Tug 'N Slide Tower foraging toy from Caitec is perfect for keeping medium to large birds active and their minds sharp. It is made from durable polycarbonate and includes several levels of treating fun. Birds slide, tug and pull different tray 'levers' to get a treat reward.
WILD BIRD

Wildlife Sciences
Suet Plus Multi-Pack
Wildlife Sciences' Suet Plus multi-pack contains five suet cakes in each of the company's popular Berry and Peanut flavors. The Suet Plus cakes work with all suet feeders, and the attractive, easy-to-open packaging eliminates greasy handling messes. The cakes are made from a melt-resistant formula.
SMALL ANIMAL BEDDING

Ware Manufacturing
Kapok Build-A-Series
The Kapok Build-A-Series from Ware Pet Products is a collection of unique, two-in-one critter creations. Each product features soft, cozy bedding coupled with an easy-to-assemble toy. The packaging transforms into a bed, hut or nest and is printed with vegetable-based inks, making it safe for chewing.
SMALL ANIMAL FOOD

Supreme Petfoods
Science Selective Hamster Food
Supreme Petfoods' Science Selective Hamster Food has a new recipe that offers improved palatability and a new kibble size and shape that is easier for tiny paws to grip. It is now an extruded, rather than baked, product, giving it a light and crunchy texture that's even more appealing.

Marshall Pet Products
Ferret Extreme Diet
Marshall Pet Products has a Ferret Extreme Diet line that is rich in protein. Ferret Extreme Freeze Dried Diet is created through a freeze-drying process that locks in nutrition. Munchy Minnows Freeze-dried Ferret Treats are made with fresh minnows that are freeze-dried to preserve vital nutrients. The Ferret Extreme Salmon Chunks are rich in omega-3 fatty acids.
SMALL ANIMAL HABITAT

Midwest Homes For Pets
Critterville Arcade Hamster Home
The Critterville Arcade Hamster Home from MIDWEST Homes for Pets is a fun and unique cage that comes with everything needed to make pet hamsters feel at home. The easy-to-clean plastic base contains messes and gives hamsters room to burrow and run, while the wire top provides proper ventilation.
SMALL ANIMAL SUPPLEMENTS

Oxbow Animal Health
Natural Science Papaya Support
Oxbow's award-winning Papaya Support contains premium ingredients such as papaya, pineapple, papain, bromelain and Timothy grass to promote overall digestive health in small animals. Pet parents can be confident that Oxbow's Papaya Support—named Top Small Animal Product at SuperZoo 2018—can provide the digestive support that is vital to their pets' overall health.
SMALL ANIMAL TREATS

Central Garden & Pet
Kaytee Premium Timothy Hay Treats
Kaytee Premium Timothy Hay Treats offer all the benefits of fresh, all natural Timothy hay in a long-lasting format for proper dental health. They are available in a variety of formats, including balls, bowls, chips, shapes and hideouts.
HERPTILE FOOD

Timberline
Hornworms Cups
Hornworm Cups from Timberline are a great addition to herptile diets. The larval (caterpillar) stage of the sphinx moth, Manduca sexta, hornworms are packed with calories and nutrients.  A large tomato hornworm has the mass of approximately 20 crickets. Timberline sells hornworm cups in three counts—4, 12 and 24.
HERPTILE HABITATS

Zoo Med Laboratories, Inc.
Zoo Med Paludarium
Zoo Med Laboratories Paludarium enables reptiles, fish and plants to live in harmony. Blending a nano aquarium on the bottom and a terrarium on top, it is available in two sizes: 12 inch x 12 inch x 24 inch with a 4-gal. water feature and 18 inch x 18 inch x 36 inch with a 10-gal. water feature.
HERPTILE HABITAT ACCESSORIES

Central Pet Aquatics
Zilla Spring Cave
The Zilla Spring Cave mimics dripping water, allowing animals such as geckos and chameleons to drink from a running source and raises the humidity in a terrarium. A large stick helps them climb into the cave to drink, and a blue LED allows you to see them at night.
AQUARIUMS

Aquatop
Recife ECO Series
Recife ECO All-in-One reef aquarium systems from Aquatop include all the accessories needed to create an ideal habitat for marine fish and corals. In addition to a multi-stage filter box system, each aquarium in the series includes a reef ready LED light, custom nano protein skimmer, submersible pump and matching cabinet stand.
AQUARIUM FILTRATION

Lifegard Aquatics
Pro-MAX Ultraviolet Sterilizer
The Pro-MAX Ultraviolet Sterilizer from Lifegard Aquatics features a patent-pending, flow-through design that uses less restrictive angled inlet and outlet ports and requires less plumbing. Available with 3-in. housing in 25-, 40-, 55-, 90- and 120-watt models and 5-in. housing in 55-, 90- and 120-watt sizes.
AQUARIUM – FISH FOOD

Spectrum Brands
Tetra Betta Worm Shaped Bites
Tetra Betta Worm Shaped Bites is a complete, balanced diet that simulates bloodworms in shape and color, and floats on the water surface. High in protein and highly digestible, its color-enhancing formula is designed to enhance the naturally brilliant colors of fish, while supporting their immune system and digestive health.
AQUARIUM LIGHTING

Rolf C. Hagen USA
Fluval 3.0 Lighting
Fluval 3.0 Performance LEDs from Rolf C. Hagen USA feature Bluetooth connectivity and the FluvalSmart app. Hobbyists have total control to customize lighting across any environment they can realistically duplicate any aquatic condition. Fluval 3.0 Performance LEDs are full spectrum lighting solutions that promote reef and floral growth.
AQUARIUM MAINTENANCE

Python Products
Professional Quality Large Tubing
Python Products has even larger high-quality tubing, as requested by hobbyists and industry professionals. Python's Professional Quality Large Tubing is medical grade, non-toxic and ozone safe. It can be used for plumbing aquariums and ponds. It comes in clear and black.
AQUARIUM – WATER TREATMENTS

DrTim's Aquatic
Waste Away Time Release Gels
DrTim's Aquatics Waste-Away Time Release gels are a unique but simple way to keep any freshwater or marine aquarium clean. The gels continuously release good bacteria to consume phosphates, nitrates and organics, outcompeting annoying pests like algae and cyanobacteria. The 100 percent reef safe gels are also good for turtle, amphibian and plant tanks.
WEBSITE DESIGN

Glo-Marr Products
The new Glo-Marr Products website makes it easy to navigate and learn more about the various brands of shampoo, sprays, colognes and other topical products offered by the company. The site features in-depth product descriptions, including ingredient information and safety data sheets, as well as information about the company's private label opportunities.
MERCHANDISING DISPLAYS

Treat Planet
Ultimate Chew Center Power Wing
Treat Planet's Ultimate Chew Power-Wing is a unique and space saving merchandising solution that provides exceptional retail value. It offers over $1,600 of retail value in 13 in. of linear space and incorporates Treat Planet's proprietary "Munch Meter" sign and showcases 11 unique proteins with three levels of hardness.
PACKAGING REDESIGN

Blue Dog Bakery
Meat Snacks Packaging
Blue Dog Bakery celebrated its 20 year anniversary with a reveal of updated packaging for its Beef Sticks and Beef Bites. The new package design, which is also used for the company's new Chicken Sticks and Chicken Bites, offers transparency and sustainability by reducing packaging waste and including a see-through panel.

Nilodor​
New Natural Touch Packaging
Nilodor's updated packaging for its Natural Touch Brand features stylized black and white pet images set against bold-colored backgrounds, creating an eye-catching presence on the shelf. Each package design prominently displays "The Tough Stuff" and Made in USA logos.
COMPANIES TO WATCH

BAYDOG
Founded just last year, BAYDOG has quickly built a stable of 150 high-quality products across six categories—harnesses, leashes, collars, outerwear, treat pouches and toy—none of which are available on Amazon or Chewy. All of the products are designed to be stylish, yet functional and durable enough to use when hunting, swimming or hiking.

ROAM
ROAM is a unique brand founded on the concept of producing high-quality, healthy pet treats with the best responsibly and sustainably sourced novel proteins from around the world. Based on its founding principles—"Good for Dogs, Good for the Planet, Good for People"—the company believes in naturally culled proteins, environmental sustainability, and returning social benefits to its partners.