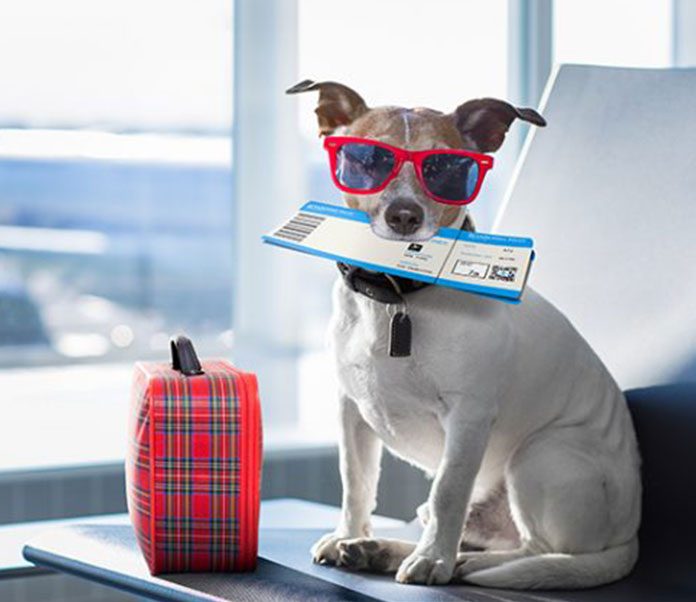 Traveling with your dog, especially flying with your dog, can seem like an exhausting hassle. Flying and traveling with your pup is sometimes not an option you want to consider, but it can be necessary, like during a long vacation or a move across the country. Here is everything you need to know in order to fly with your dog.
Can My Dog Come On The Plane?
The good news is your doggo can come on the plane with you on almost every airline. The rules for flying with a dog are different for individual airlines, so be sure to check out your airline's specific pet policies. Most airlines will allow for smaller dogs to travel in cabin. In order for your dog to fly in-cabin, he will have to be in an airline-approved carrier and be well-behaved. Again, check specific airline pet policies to see if your dog is the proper size and breed for flying.
Are Certain Dog Breeds Not Allowed To Fly?
Some airlines have restrictions on what breeds of dogs are allowed to fly, whether in-cabin or not. Many airlines have placed a ban on brachycephalic breeds, or dogs that are short-faced like Bulldogs, Pugs, and Boxers. The reason for this flying ban is an issue of health. Short-faced dogs sometimes have a difficult time breathing on airplanes, and some have died because of it. If you have a brachycephalic dog, be sure to check with your airline if flying with your pup is allowed or if the risk of flying is even worth it.
Is My Dog Safe Below Cabin While Flying?
If you have a dog that is too large to fly in-cabin, there are several airlines, including American and Delta, that offer a pet check option. This option will have your dog in a below-cabin area that is pressurized and temperature controlled. 
Most dogs do not experience physical harm while flying in the below-cabin area, although it is a possible risk to be considered. There is always the chance your dog can be physically harmed in any travel scenario, but flying below-cabin can be incredibly stressful and anxiety-inducing for your dog. If you want to fly with your dog, many experts advocate only checking your dog if it is completely necessary.
How Much Does It Cost For My Dog To Fly?
The cost of how much it will cost to fly with your dog depends on the airline you are taking. There is no airline without pet fees, and the fees tend to range from $75 to $200 each way.
What Are The Best Dog-Friendly Airlines?
While most airlines are accommodating to pets, there are a few airlines that stand-out as favorites for people who fly with their dogs. Some airlines, like Jet Blue, have a frequent flyer program for your dog.  Others, like Virgin Atlantic, will give flyers bonus points for flying with their dog if they are a club member. Delta is also often cited as a great airline to fly with your dog due to their rarely-cancelled flights and overall passenger satisfaction. 
What Are The Safest Airlines For Traveling With Your Dog?
It is difficult to determine exactly what is the number one "safest" airline for flying with dogs. The U.S. Department of Transportation (DOT) requires that airlines report any and all animal deaths, loss, and injuries monthly. These numbers are made available to the public here. 
While these numbers may induce panic at first, there are a few things worth noting. The numbers for pets lost or killed while traveling below-cabin does not reflect the percentage of pets that were lost or killed. So yes, technically Delta has the most animal deaths (82), but they also fly a higher overall amount of pets than say, ATA Airlines, which only has 2 deaths.
The DOT also does not fact-check the self-reported numbers from airlines or investigate possible inaccuracies. We can hope that airlines are being ethical and truthful when they report how many animals were injured or killed while flying, but there is no guarantee the statistics are 100% accurate.
Flying With Your Dog Do's And Don'ts
Do:
Have all of your dog's most recent vaccine records with you while you travel.

Let your dog have plenty of time to run around and wear themselves out before a flight.

Talk to your vet pre-flight to see if there are any rituals or medications they recommend for your dog while traveling.

Make sure your dog has done his business before a flight of any length.

Insure your dog is comfortable in their carrier. Leave it out a couple of weeks before traveling so they can make it their own. Include a blanket with your scent for comfort.

Bring portable food and water bowls for your dog on the plane.

Research your airline. Make sure you have the documentation and correctly-sized carrier for your airline of choice.
Don't:
Give your dog Benadryl or any other medication or sedative without consulting your dog's veterinarian first.

Squeeze your dog into a carrier that is too small for them. Make sure the carrier is large enough so your pup can turn around completely and sit up slightly.

Wait until the last minute to book your dog's travel. Airlines limit how many pets can be brought both below-cabin and in-cabin for each flight.
Are you flying with your dog anytime soon? Have you traveled with your dog on an airplane before and have any tips for future flyers? Let us know in the comments.