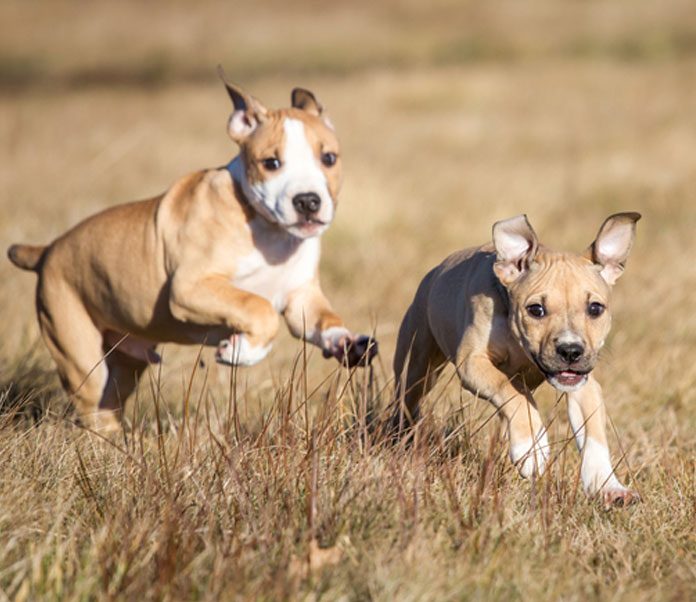 The smell of pumpkin spice lattes, the change in the color of the leaves, sweater weather–it can only mean one thing: it's officially fall! In honor of the change in season, here are ten dogs that cannot get enough of one of the best things about fall–jumping in a pile of leaves!
Oh, and just a reminder: make sure your pup is up-to-date on flea and tick treatment before letting them leap!
1. The Leap Frog Dog
While at first it may seem like an ordinary leaf pile, there is, in a fact, a dog hiding inside. This Siberian Husky cannot contain himself and keeps coming back to the pile for more. Forget dog toys, all this dog needs for hours of entertainment is a pile of leaves. Once he runs away you think he's done, but don't let him fool you. He keeps coming back, hopping through the leaves like a frog.
2. Leaf Pile Fetch
This yellow Labrador Retriever doesn't just love ordinary fetch–she loves leaf pile fetch. She can't stop herself from going after the ball, even if that means jumping into the same pile of leaves every single time. It never gets old for her. Now you see her, now you don't!
3. Leaf Heaven
Cleo the Basset Hound cannot get enough of fall. She loves to roll around in the leaves without a care in the world. It looks like fall is definitely her favorite season.
4. Shih Tzu Vs. Rake
This Shih Tzu puppy will not let his owner do his job. Every time he attempts to rake up the leaves, the puppy excitedly runs around him thinking the rake is a toy. She is having the time of her life, while her owner–not so much.
5. Dog Plow
Forget snow plows; all you need is a dog plow. Except, in this case, instead of helping you clean up, the dog plow destroys all your hard work by plowing through your neatly piled leaves. Remember, if you decide to invest in a dog plow, be prepared for extreme cuteness and an extreme mess.
6. Catching Competition
Instead of diving into a pile of leaves like his fellow dogs, this French Bulldog attempts to catch leaves in his mouth, leaping into the air like his life depends on it. A leaf catching competition needs to be created just so this little guy can compete for the gold.
7. You're Not The Boss Of Me
This Dachshund doesn't just like fall, she loves it! She loves it so much she is willing to jump in a leaf pile twice her size. She may be tiny, but she'll show the leaf pile whose boss. Nothing will get in her way of enjoying the autumn leaves–not even her size.
8. Roll Baby Roll!
This Chihuahua mix is going to need a bath because he cannot stop himself from rolling in the leaves. While he can appreciate the change in season, his owners might not. But a little dirt is the price to pay for such an adorable video. Who could take away such a happy moment from this guy?
9. Short Dogs Vs. Leaf Pile
Just because you're short doesn't mean you can't join in on the fall fun! These two tiny dogs may be small, but they are packed with energy. While they are having a blast, their short legs do make for a hilarious video. The way they hop through the leaves is certainly LOL-worthy.
10. The Smart Approach
This doggo takes his time and is calm and steady. Instead of rushing through the leaves to look for his treat, he slowly searches the pile. He takes the lazy approach, but in my opinion it's the smart approach. Why waste your time when you can use your super smell senses to find the reward.
Do your dogs love leaf piles? Is fall your dog's favorite season? Let us know in the comments below!