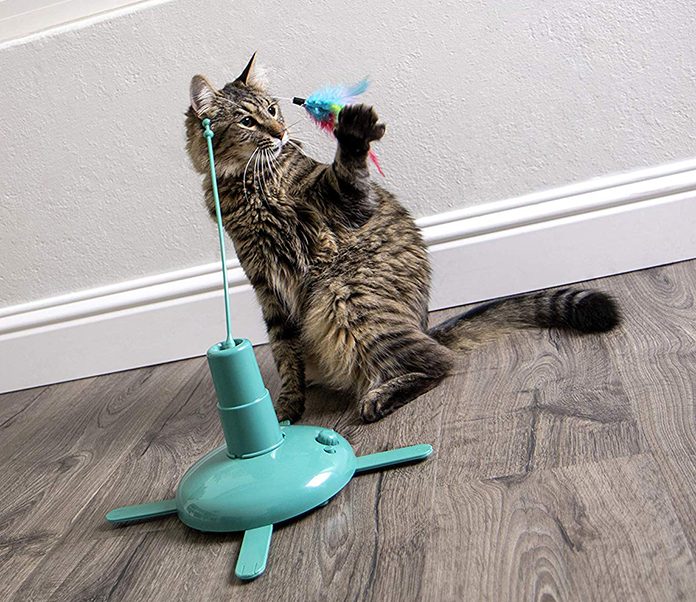 Catit Senses 2.0 Digger for Cats
Price: $14.99
The Catit Senses 2.0 Digger encourages cats to work for their food/treats in a fun and natural manner. As cats are true hunters, they need to be able to search and locate food in different loations around the house.
---
PetDroid Boltz Robotic Moving Automatic Mouse Cat Toy,Mouse Sound Chip Chaser Toy for Kitten
Price: $14.99
Unpredictably moves in the different directions and stops after second touch

Not suitable for use on carpets or rugs( Hard and Flat surfaces only)

Have build-in radial sensor,reacts to cat`s slightest touch,Supplied with sound chip with the mouse sound

Best gifts for your cat`s christmas,thanksgiving day gift;best cat toys for fun



---
Pawaboo Cat Toy Electronic Mouse
A burrowing mouse plays hide and seek to captivate your pet cat's attention. Mouse burrowing action simulates real movement.

Durable plastic construction, battery operated and portable.(Batteries not included)

With randomized starting, stopping and reversals, give your cat the thrill of the chase with this fun cat toy and brings out your cat's natural hunting instinct.

With quiet track technology, no noise. Two different Speed Setting for choices – Fast & Slow.

---
SmartyKat Electronic Motion Cat Toys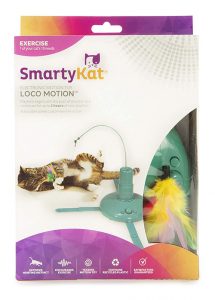 Price: $12.99
Satisfy your cat's need for Exercise. The Loco!Motion is an interactive cat toy that doubles as a feline exercise machine. Chasing the erratically moving, fluttery feather toy provides physical and mental stimulation, and is just plain fun! This battery-operated toy lets you control the action with adjustable speed controls and is programmable for up to two hours of continuous play. EcoAdvantages: Made with 50% recycled post-consumer plastic. Made with natural undyed feathers.
---
Catit Senses 2.0 Food Tree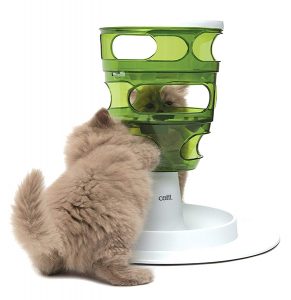 Price: $19.99
New and improved design with increased stability

Smart toy that stimulates cats to work for their food

Made of BPA-Free Materials

Provides 3 difficulty levels

Easy to disassemble and clean
---
Cat Amazing – Best Cat Toy Ever! Interactive Treat Maze & Puzzle Feeder for Cats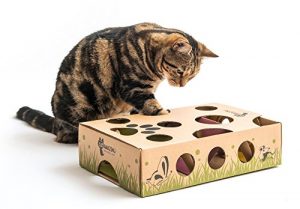 Price: $15.95
INTERACTIVE CAT TOY – award-winning game & puzzle box – stimulates and occupies cats and kittens for hours – bonds cats and their owners through play!

ENCOURAGES NATURAL INSTINCTS to explore, scratch, sniff, find and retrieve hidden rewards – with three difficulty levels to challenge clever cats as their skills improve!
---
Catit Senses 2.0 Wellness Center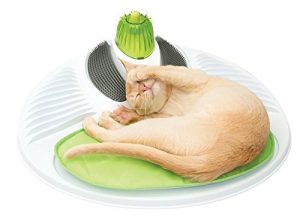 Price: $40.71
The Catit Senses 2.0 Wellness Center includes a wide variety of brushes, textures and massage ridges to help your cat relax and groom themselves. you to create new and exciting setups for your cat, quickly and easily! Each toy was designed to activate and stimulate your cat's unique senses, all in one fresh, green style to match any home interior, no matter the arrangement.
---
Catit Design Senses Play Circuit, Value Bundle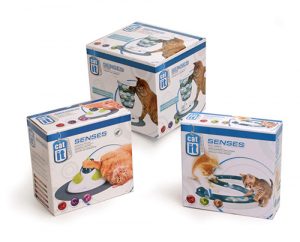 Price: $29.15
Ultimate pampering and massage experience

Adding catnip heightens sensory experience

Targets your cat's senses while providing entertainment

Smart way to feed your cat and offer various levels of difficulty to challenge your cat's abilities

Side Cut-outs: Cat moves the food through the maze by pawing at it through the side openings