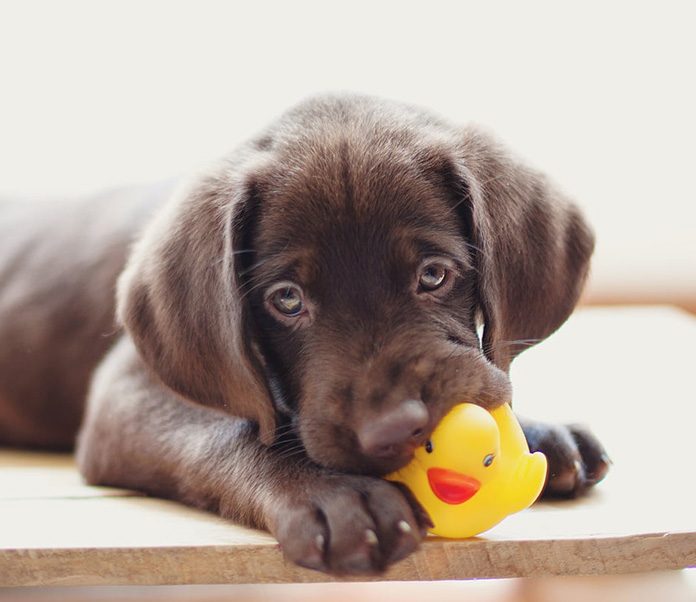 How to Survive Your Puppy's Teething Stage?
Your puppy's first months, while cute and cuddly, are not without growing pains. Among them, teething can be particularly frustrating. But what age do puppies start teething? Puppies begin losing their baby teeth around three to six months of age. During this time, your puppy's gums will be very sensitive. Due to puppy teething pain, they might lose their appetite and become picky eaters. In some cases, you might have to specially prepare their food or buy new toys.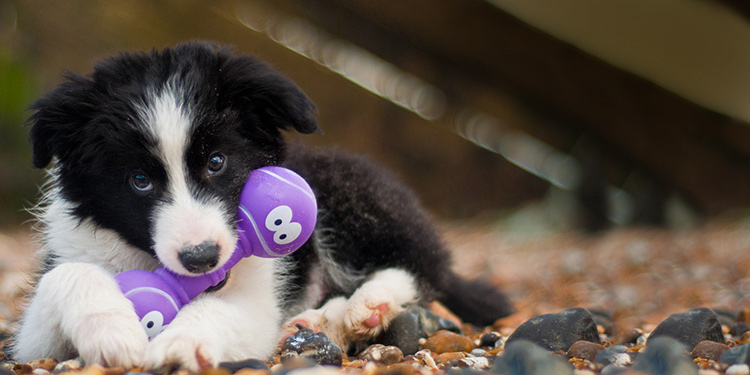 If your puppy is teething, read these helpful tips to make this growing pain less painful.
Soak Their Dry Puppy Food
Dry food and puppy biscuits help loosen your puppy's teeth, which can help speed the teething process. However, your puppy might find their kibble and treats are too tough on their tender teeth. Try soaking dry puppy food in warm water for 10-15 minutes before serving to make the dry food easier to chew.
Mix in Canned Puppy Food
While changing your puppy's food is not advised – as it can cause digestion problems – you can add some wet puppy food to their usual dry formula. Adding wet food helps soften dry dog food for their sensitive gums. This can also make the food more palatable for finicky puppies.
Buy Dog Chews and Chew Toys Designed for Puppies
Regular dog treats are not made for young puppies. Treats that are too large or too hard can cause damage to your puppy's mouth, teeth and gums. Giving your puppy appropriate puppy teething toys or dog chew toys and dental chews can also prevent them from destroying items around the house, like shoes and furniture.
Fillable, treat dispensing dog toys are great for teething puppies, as are well-made rope toys. You can even fill or soak these treats with water or freeze them to help soothe your puppy's sore gums.
Keep an Eye on Your Teething Puppy
Like babies, puppies explore the world with their mouths. During the teething stage, puppies will sink their teeth into almost anything. It's important to keep items that aren't safe for puppy to chew on out of their reach.
Puppy-proof your home by keeping these common hazards out of reach:
Shoes: Loose laces and grommets can easily be bitten off and swallowed.
Children's toys: Small toys, such as building blocks or board game pieces, can cause your puppy to choke or block their intestines.
Electrical cords: Rubbery cords might look like chewy toys to an unsuspecting puppy, but they can cause harm to your dog and your home.
Ice: Chewing ice can damage tooth enamel.
Rope: Fibers can tear off and block intestines if swallowed.
Rocks and sticks: Rocks can be a choking hazard for your puppy, as are wooden sticks, which can splinter and damage your puppy's mouth.
Animal bones: Never give a puppy real, cooked bones or rawhide, as they can break into tiny, abrasive shards that cause damage to the digestive tract.
Water bottles: Plastic bottles are easily shredded, resulting in shards that might hurt your puppy's mouth. Your puppy might also pop the cap off and swallow it, causing a blockage.
Hard objects: Any hard object, such as a dumbbell, that is not intended as a dog toy can fracture a dog's sensitive teeth, or break into shards causing digestive damage.
Before giving any toy to your dog, make sure it's appropriate for their size. A large puppy might be able to swallow a dog toy that's too small. Rope toys are popular for dogs, but torn fibers can cause intestinal blockage, and a game of tug-o-war can damage your puppy's developing teeth.
Also avoid any toys that are too thin at this stage in your puppy's life (like many squeaky toys) because they are too soft for vigorous chewing and teething. Hard rubber and nylon toys are almost indestructible for most dogs, making them ideal for rough-and-tumble puppies.
Visit Your Veterinarian
By the time your puppy is six months old, they will likely have lost their baby teeth, and have a full set of adult teeth that require special care. Before their next visit to the vet, check your puppy's mouth for any remaining baby teeth. Let your veterinarian know if you find a baby tooth, or if you're unsure they have lost all their baby teeth.
Your veterinarian can recommend a healthy oral care regimen for your growing puppy, which often includes regular brushing and teeth cleaning. While your dog will need the occasional cleaning, this process requires anesthesia, and can be costly. At-home oral care can delay the need for professional cleaning, saving you time, money and stress.
Practicing appropriate at-home oral care and choosing the right chew toys helps to keep your puppy's teeth strong and healthy, giving you both something to smile about.
Recommended Products
| | | | |
| --- | --- | --- | --- |
| Picture | Name | Price | Description |
| | Bonve Pet Dog Bowls – for Feeding Dogs Cats Puppies | | More |
| | Nylabone Puppy Chew Toy, Petite | $2.49 | More |
| | KONG Puppy Toy | $13.99 | More |
| | Dental Teeth Cleaning Chew Toys for Small Dogs | $13.41 | More |
| | Nylabone Advanced Oral Care Dental Kit | $11.14 | More |