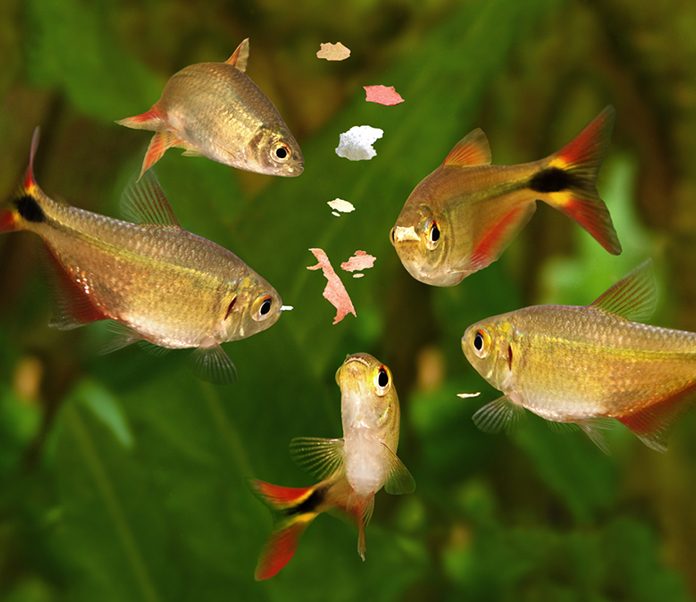 Once your aquarium or pond is established, you'll need to select a high quality fish food to ensure that your fish get the necessary nutrients for their continued health and growth. But what should you look for in a fish food formula? And how do you determine what type of food will be best for your fish?
Nutritional Requirements for Fish
Most fish foods will contain twenty amino acids, including the ten that are most essential to fish, in their ingredients. Ingredients such as fish meal, whole wheat, and zeolite, to name a few, should be present in the food you select for a diet high in protein and optimal digestibility. It is also important that your fish like the food, which can be easily determined by whether your fish eat at mealtimes. Palatability is important in that it reduces the amount of uneaten food in your tank that eventually becomes waste, resulting in decreased levels of ammonia in your aquarium.
Species-specific Foods
There are several fish foods on the market geared toward specific types of fish, so if you have Cichlids, be sure to choose a Cichlid formula, and likewise if you have a Betta, Guppies, etc. In many cases, food may be labeled as "tropical" or "bottom feeder," which encompass a wide range of fish that fall under those species. These are suitable if your fish fall into these types of categories.
How Fish Eat
Another factor to consider in choosing your fish's food is the kind of mouth they have. Some fish are referred to as "upper mouth" fish, which means their mouths tilt upward, so they most easily consume food at the surface of an aquarium. If this is the case for your fish, flakes are the best option. "Final mouth" fish tend to eat either at the water's surface or in middle waters, as their mouths are set in a straight line, whereas "bottom mouth" fish eat at the bottom of most aquariums, making sinking pellets or wafers the best food type for them.
Whichever food you select for your fish, you can't go wrong if you've taken all of the above factors into consideration. Feeding your fish is one of the most interactive parts of fishkeeping, so drop a few flakes in and enjoy!
Recommended Products
| | | | |
| --- | --- | --- | --- |
| Picture | Name | Price | Description |
| | TetraMin Tropical Flakes, Nutritionally Balanced Fish Food, 7.06-Ounce | $6.10 | More |
| | TetraFin Balanced Diet Goldfish Flake Food for Optimal Health | | More |
| | TetraColor Tropical Flakes with Natural Color Enhancer | | More |
| | Tetraveggie Algae Wafers Complete Diet For Algae Eaters | $5.76 | More |
| | Tetra Tropical XL Color Granules with Natural Color Enhancer | $6.80 | More |
| | Tetra TetraVeggie Algae Wafers | $4.22 | More |