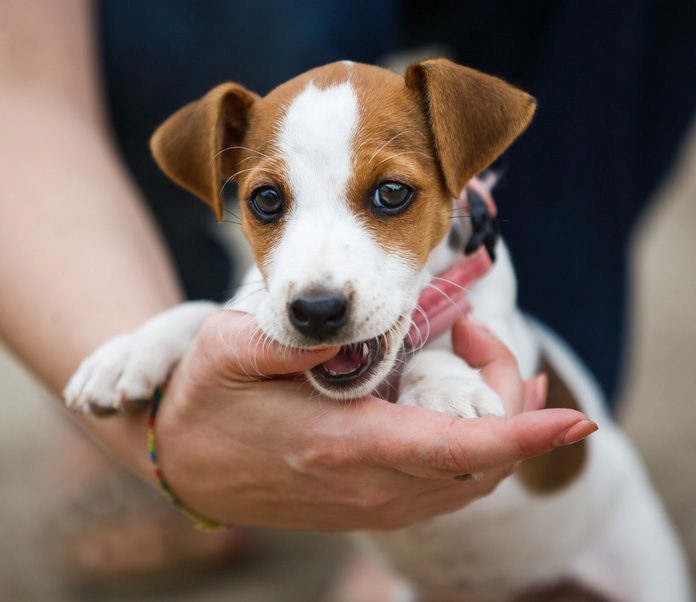 Teaching your new puppy not to bite is one of the most important steps in their training. No matter how cute their little nips might seem when you're playing, as your puppy gets older and bigger, any biting could be potentially dangerous. Help get the little nips and bites under control now with these tips.
Most first-time puppy owners don't think about their dog biting another person a few years down the road, but dog bites are all too common and can result in legal action. To help prevent circumstances like this, it's important to train your dog not to bite anyone. Use these five tips to help promote good manners in your puppy.
1. Start Training as Early as Possible
You may have just brought your new puppy home, but it's never too soon to start training them, particularly when it comes to biting. Like most behavioral issues, the earlier you start correcting the issue the better off you'll be in the long run. Don't worry that your puppy is too young to understand the training; they are constantly absorbing information, so if you immediately and consistently show them that biting and nipping are unacceptable behaviors, they'll learn to express themselves in a different way.
Many pet parents don't allow their dogs to bite if they perceive it as an aggressive behavior, but they are more lax if their pup is being gentle or is playing. Just because it might seem cute doesn't mean it should be allowed. If your puppy learns it's okay to use your finger as a chew toy that could easily follow them into adulthood.
2. Avoid Harsh Punishment
The instinctive way to prevent your pup from biting is to grab their muzzle and firmly tell them "no." However, using physical dominance to train your pup can very likely send the wrong message.
Your puppy might internalize that being physically dominant is the way to win an argument, and that can lead to more behavioral issues as they grow. On the other hand, if you physically dominate or intimidate your puppy, he or she might become timid or afraid of you. This can cause a host of issues and irreparably harm your bond with each other.
Instead of directly punishing your dog, try ignoring them when they bite you. While it might not seem to make sense, remember that your puppy is probably nipping at you in play, just like they would with a fellow pup. If you get up and discontinue playing, they'll learn that biting is not playing.
Consistency will be key here: You will need to get up and stop playing every time your puppy nips at you. This will constantly reinforce the lesson, and it will make your training more effective in the long run.
3. Offer Alternatives
Outside of playing, many puppies will begin to chew and to bite while they're teething. If you do not want your canine companion to use you or your belongings as chew toys, offer alternative outlets for chewing.
Try different toys, bones and ropes as options to satisfy your pup's natural urge to chew and gnaw. When they're using their toys, reward them with playtime, attention or affection to reinforce good behavior.
4. Be Consistent
If you are ignoring your puppy or you're busy working on something else and they bite you, don't react. When you engage with the negative behavior, you're teaching them that it's a way to get your attention and they'll begin to consider it a game. Additionally, don't be afraid to let them know their playful nips hurt you. Sometimes over-exaggerating your reaction in pain can help discourage them from doing it again.
Ultimately, you must choose a method of deterring bites and nips, and you must stick with it to make the lessons effective. Deviating even once can undermine what you're trying to do. With time, your puppy will learn to stop biting you and others, and they'll dedicate their teeth to their toys.
Recommended Products
| | | | |
| --- | --- | --- | --- |
| Picture | Name | Price | Description |
| | PetSafe Nylon Dog Leash | $7.95 | More |
| | AmazonBasics Pet Training and Puppy Pads, Regular and Heavy Duty | $19.99 | More |
| | Petnation Port-A-Crate Indoor and Outdoor Home for Pets | $28.99 | More |
| | Nylabone Advanced Oral Liquid Tartar Remover Dog Health Supplies | $9.09 | More |
| | AmazonBasics Stainless Steel Dog Bowl | $13.99 | More |
| | Nylabone Puppy Chew Toy | $2.49 | More |
| | Benebone Real Flavor Wishbone Dog Chew Toy | $11.59 | More |