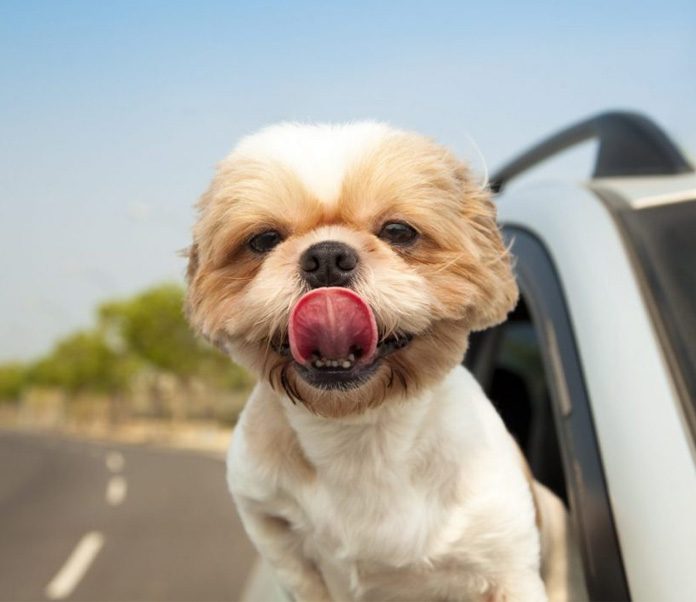 Taking a road trip with pets can be challenging. Knowing where to stop, finding a place to stay overnight and deciding what to bring are important things to consider when traveling with your dog. Check out these tips to make your next road trip with your pet as fun and stress-free as possible.
Get the Most Out of Your Road Trip With Your Pet
Traveling by yourself is already stressful, and adding your dog to the mix can make planning even trickier. But with a little preparation, road trips with your pets can be a fun experience. Follow these helpful tips to take the stress out of traveling with your dog.
Step One: Practice Makes Perfect
Not all dogs travel the same. Find out what kind of traveler your pup is by taking them on a few test drives before the trip. Some dogs suffer from motion sickness and might require medication. Other dogs can get wound up or anxious in the car. Test trips will give you a good idea of what your pet will need on your journey.
TIP: Visit your veterinarian before your big trip. He or she can give you advice for managing your dog's behavior and can prescribe sedatives if your pet is a nervous traveler.
You should also practice training with your dog to help make the trip easier on both of you and to ensure their safety while traveling. Make sure your dog has these down before hitting the road:
Crate Training – For your dog's safety and those in the car, it's best to keep your dog in a travel carrier. Additionally, if you leave them unattended in a hotel room or have fears that they'll be anxious while trying to sleep in a new location, crate training your dog can prevent any destructive behavior and provide them with a sense of safety in a new place.
Bathroom Cues – To avoid messes in the car and to get the most out of every pit stop, make sure your dog or puppy is housebroken.
Crowd Control – Many dogs get nervous when surrounded by strangers. If you're planning to take your dog to crowded areas while on your trip, make sure to get them accustomed to crowds and teach them the appropriate manners ahead of time.
Recall – Be prepared in case your dog slips their leash or gets out of the car. Reinforce a strong recall with your pup to keep them out of harm's way.
Step Two: Do Your Research
Before you and your furry friend hit the road, map your route to account for potty breaks, attractions, pet-friendly accommodations and more. This will give you a better idea of how long your journey will take and your pet's needs.
Rest Stops and Potty Breaks: A six-hour drive might not seem like a long journey for seasoned road trippers, but dogs usually are not accustomed to sitting for hours at a time. In addition to bathroom breaks, make a few pit stops to keep your pup entertained. Plan out your stops and budget for that extra time in your travel. Look into rest stops that are dog-friendly, or even try to locate small cities and towns with public dog parks where you can let your dog run off some energy from being cooped up.
Road Trip Attractions: Just because you're traveling with your dog doesn't mean you can't check out fun tourist attractions. Whatever it is you want to experience, check in advance to see if the attraction will allow you to bring your dog with you. If not, is there a safe place for your dog to stay while you have a look around? Planning in advance will prevent disappointment on the road.
Pet-friendly Accommodations: If your travel plans include staying overnight at a hotel, make sure your rest stop allows dogs. Pet-friendly hotels might not be available in every city, so it's best to do your research and make accommodations ahead of time. If you want to camp, look into campgrounds and national parks that allow dogs. If your dog gets nervous in new places, or alerts at sounds in the night, staying the night in a hotel or bustling campground might be a challenge. A white noise machine and a blanket to cover your dog's crate at night will help all of you sleep easier in a busy hotel.
Prepare for the Weather: Few things are worse than being unprepared while traveling, especially when it comes to the weather. Be prepared to readjust your plans in the event of inclement weather. Have a few backup plans (especially one that includes an indoor, climate-controlled space) just in case.
Dog Care at Your Destination: Maybe you want to go out to dinner or check out a few local shops. If you have to leave your dog alone for any period of time, be sure you have a plan in place. You can crate them for a couple of hours while you run out, or you can even find a doggy daycare at your destination.
Health & Wellness: Getting sick and other medical emergencies are the last things you want to have on a road trip. But in the event your dog requires medical attention, be sure to have nearby vet clinics mapped out.
Step Three: Safety First
Not everything goes as planned when you're traveling – items get lost, people (and dogs) get carsick and fender-benders can happen. Prepare for unexpected events like these by:
Checking in with your local vet before you leave in case your pup needs updated shots or vaccinations before going somewhere new
Having the appropriate seatbelts, harnesses and crash-tested crates for the journey
Updating their tags and microchip information
Keeping all necessary documents, veterinary notes and emergency contact information in a safe place
Packing a first-aid kit, flea and tick medication and emergency treatment information
Keeping your dog in a crash-tested crate or having a special car harness
TIP: Beyond the medical necessities, keep in mind that your dog has different needs in the car than you do. Keep the loud music in the front seat to protect their ears. Also, be sure to keep your dog inside the car at all times.
Step Four: Packing Checklist
Keep your dog satisfied and entertained, and make sure you have everything you need to keep your car clean with this packing checklist.
Water bowl
Food bowl
Dog food
Dog treats
Leash (and a spare, just in case)
Updated tags & collar (and a spare, just in case)
Necessary medication (prescriptions, motion sickness medicine, flea & tick treatments, etc.)
Medical records & vaccination certificates
Crate/kennel
Dog bed/blankets
Favorite toys
Grooming supplies & towel
Car seat cover/protective sheet
Poop bags
Step Five: Keep Them Entertained
To make the journey more enjoyable, pack your pup's favorite toys, and be prepared to play some quick games of tug or fetch whenever you stop. Puzzle feeders or treat-dispensing toys filled with treats or peanut butter are also great ways to keep your dog entertained in the car.
Step Six: Establish a Routine and Have Fun
Your dog is a creature of habit. Create a simple routine for them at your destination or on the road, and they'll ease into the adventure just like you. Remember, you're bringing your pup along to add an extra element of enjoyment to your trip. Use these tips to make the journey as easy and enjoyable as possible.
Recommended Products
| | | | |
| --- | --- | --- | --- |
| Picture | Name | Price | Description |
| | Dog Safety Vest Harness | | More |
| | Adjustable Pet Dog Cat Car Seat Belt Safety Leads Vehicle Seatbelt Harness | $9.99 | More |
| | Outward Hound Star Spinner Interactive Doy Toy Puzzle for Dogs | $50.99 | More |
| | KONG – Classic Dog Toy – Durable Natural Rubber – Fun to Chew | $12.99 | More |
| | Dog Waste Bags with Dispenser and Leash Clip | $14.75 | More |
| | The Original Elevated Pet Bed by Coolaroo | $22.30 | More |