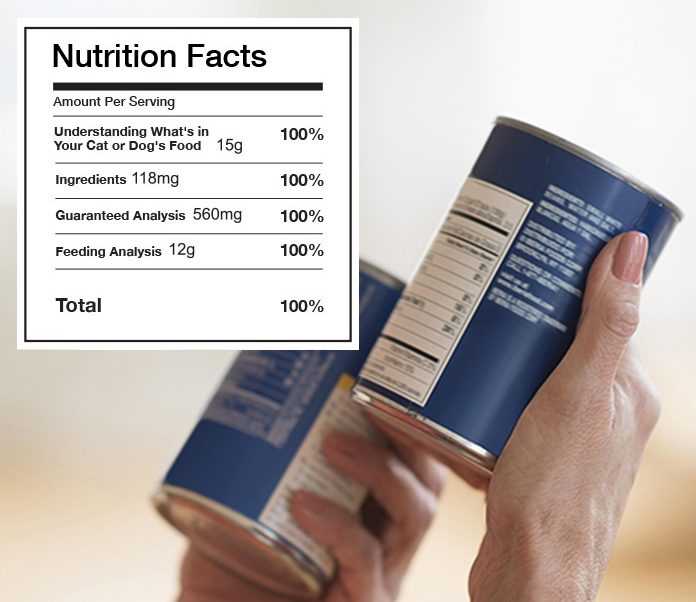 Ingredients, analyses and guidelines: What does it all mean? Get answers to common questions about pet food nutrition labels.
Understanding What's in Your Cat or Dog's Food
You read nutrition labels at the grocery store, but when it comes to your cat or dog's food, the list of ingredients, labels and certifications can be confusing. Here are some tips for decoding the lists and labels of your pet's favorite recipes.
Ingredients
The ingredients in your pet's food are listed according to their pre-cooked weight. For example, if chicken is listed first on the ingredients panel, you know that chicken makes up a significant portion of the formula. Ingredients further down the list mean that they are added in lesser amounts.
Understanding the order of ingredients is important, but it's also helpful to know the quality of those ingredients. To find out whether they deliver the nutrition your pet needs:
Look for high-quality protein sources, such as chicken, lamb or venison, near the top of the ingredients list.
Check if their food features special nutrients for their specific health needs, such as omega fatty acids, which help promote healthy skin and a lustrous coat.
Make sure your pet's formula excludes ingredients that are known to upset their stomach. For example, if you know your pet doesn't tolerate grains well, consider a recipe that features chickpeas or potatoes instead of corn, wheat or soy.
Guaranteed Analysis
Near the ingredients list, you'll also see a panel with the maximum percentages of crude protein and crude fat, as well as the minimum percentages of crude fiber and moisture. These numbers can vary greatly when comparing wet and dry food. That's because canned pet food has more moisture (water) than kibble (mostly dry matter).
But, guaranteed analysis doesn't tell the whole story. For example, it doesn't tell you what protein sources are used in your pet's food. That's why it's important to read the ingredients alongside the analysis panel.
Feeding Guidelines
Your cat or dog's nutritional needs also depend on their age, breed and weight. This is especially true for dogs. And since no one pet is the same, the daily feeding guidelines on the back of the package are just that, guidelines. Follow the feeding directions carefully, and consult your veterinarian about how much to feed your companion for optimal health.
Recommended Products
| | | | |
| --- | --- | --- | --- |
| Picture | Name | Price | Description |
| | Outward Hound Fun Feeder Dog Bowl Slow Feeder Stop | $8.24 | More |
| | simplehuman Medium Pet Food Storage Can, Brushed Stainless Steel, 25 L, 27 lb/ 12.2 kg | $99.99 | More |
| | Stainless Steel Dog Bowl | $13.99 | More |
| | Dog Waste Bags with Dispenser and Leash Clip | | More |
| | Loving Pets Bella Bowl | | More |
| | PetSafe Healthy Pet Simply Feed Automatic Cat and Dog Feeder with Stainless Steel Bowl | | More |
| | Oster Combo Brush for Dogs | | More |