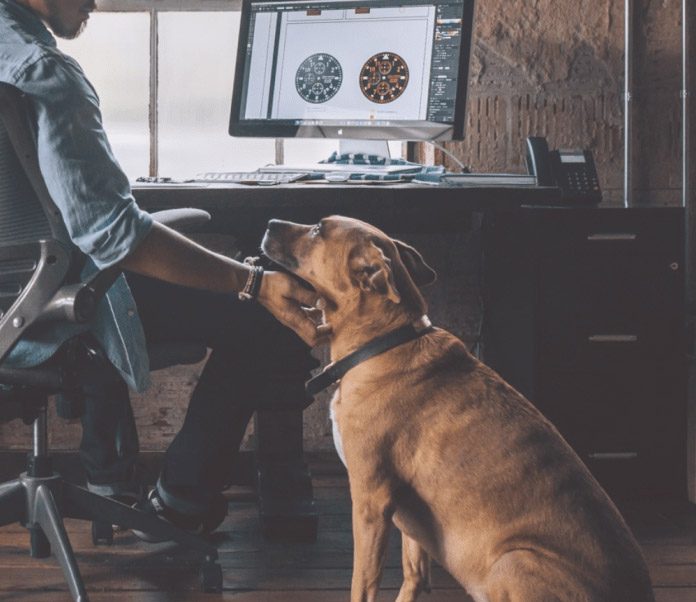 Working dog owners, don't worry! These tips will help you and your pet live your best life, no matter your schedule.
Sure, it'd be great if we all had flexible schedules and dog-friendly workplaces that allowed us to be with our pets as much as we wanted. However, for most working dog owners, that simply isn't the case. Here's what you need to know to make your workdays easier for both you and your pet.
Start by making your dog's space cozy, safe, and appealing. A dog-safe zone filled with comforts and distractions will help your dogs stay busy while you're gone.
Choose a secure spot, whether it's a spare room or a sectioned-off part of the kitchen or living room. Then, add some or all of these items:
Pet gates (you may need something tall if you have a jumper)
A cozy bed
Blankets and dog toys
Consider your dog's activity needs and provide some mental stimulation too. We love puzzle toys like the classic KONG to keep dogs busy and engaged. A wireless camera lets you take a peek at your pet during the workday, too. Some options even allow you to communicate with them, like the Petcube.
Before you head out for the day, take a moment to give your dog some exercise. A brisk walk does wonders! A quick game of tug or fetch is also a satisfying energy outlet for most dogs. Finally, a short training session helps tire them out, too.
Don't be afraid to enlist some extra help! If you don't have time for the morning exercise, consider booking a local dog walker to help break up your dog's day and channel some of their energy before you get home.
Doggy daycare is another great option for social dogs. If you live close by, visiting your dog at lunch or on a break can be a real treat for you both.
Recommended Products
| | | | |
| --- | --- | --- | --- |
| Picture | Name | Price | Description |
| | Petcube Play Smart Pet Camera with Interactive Laser Toy | $199.99 | More |
| | KONG Cutesea Octopus, Medium | $12.00 | More |
| | FurHaven Pet Dog Bed | Deluxe Orthopedic Ultra Plush Mattress Pet Bed for Dogs & Cats | | More |
| | Chuckit! Ultra Ball; dog toy | | More |